Meet our Discipling Evangelist
"I charge you therefore before God and the Lord Jesus Christ, who will judge the living and the dead at His appearing and His kingdom: Preach the word! Be ready in season and out of season. Convince, rebuke, exhort, with all longsuffering and teaching…you be watchful in all things, endure afflictions, do the work of an evangelist, fulfill your ministry." (2 Timothy 4:1–5)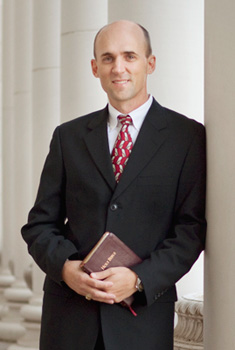 John Darren Ely attended church all his life but it wasn't until his junior year in high school that he really began hungering for God. Darren was seventeen when he yielded his life to Jesus as he knelt beside his bed one evening. Within a couple of years he began attending a local Baptist church and became involved in its inner‐city youth ministry and later, the college ministry. It was during these early college years that Darren began to sense God's calling into full‐time service to preach the Gospel and make disciples.
Shortly after graduating from Texas A&M University in 1996, Darren attended Southwestern Baptist Theological Seminary. He did so full‐time for a season, then part‐time while also serving on staff with the Navigators®. Darren finished his Master of Divinity degree in 2003 and thereafter joined the pastoral staff of a small Baptist church where he directed the college ministry and the planting of a church in Mexico.
Darren's ministry experience has been enhanced through a variety of additional training:
MasterLife Discipleship Training
Certified Leader, Biblical Financial Study, Crown Financial Ministries
Certified Counselor, Biblical Counseling Certification Program (completed all three levels), Southwestern Baptist Theological Seminary
Counseling and Discipleship Training (over 30 hours), National Association of Nouthetic Counselors (

NANC

)
In 2011 Darren resigned his pastoral position, joined the Conference of Texas Baptist Evangelists and founded Frontlines Ministries, Inc. He now ministers as a vocational Discipling Evangelist, working primarily with pastors and church leaders across the state of Texas and the world, particularly in Latin American countries to bring revival through the fulfillment of Christ's Great Commission.
Darren, his wife Gina, and their eight children reside in Bryan, Texas.
(References available upon request.)